Gifting Melt: Massage for Couples
for a Special Occasion
Sharing a massage is the perfect romantic gift for your partner!
Imagine…
Valentine's Day!
Birthday's
Anniversaries
To say sorry
to say I love you | I appreciate you | I adore you!
Picture it: a romantic night in for two, candles, a little wine, a little massage…
Gift your partner a lifetime membership to our Melt: Massage for Couples video series and watch them light up. Kick it off for them by actually treating them to a decadent massage on February 14th and they'll melt beneath your hands.
We've made it extra easy for you with our downloadable IOU back rub cards and free printables.

Download these cute, punny massage printables for free. We like to have them printed and laminated, then cut them out and tuck them around the house – inside shoes, under pillows, on the bathroom mirror – as clues that something special is coming later.
To make this gift really special, we've created our very own massage oil that you can wrap up alongside it.
Our massage oil is the legit, professional grade 100% Sweet Almond oil – nothing extra added to it. No preservatives, no additives no other oils to dilute the quality of Almond Oil. This is Denis' oil of choice.
It's non greasy, easy to apply and is progressively absorbed into the skin making it an incredible carrier oil that nourishes your partners skin as you massage them!
Massage oil is a natural choice – you're going to be needing it anyway to get started on your massaging together! If you already have oils at home – then you're good to go. If not – below are some resources for you.
What we like about carrier oils / base oils is that they're made from the one product, for example: Almond Oil, Apricot or Grapeseed Oil. If you're allergic to Almonds use Apricot or Grapeseed.
Oil blends will include a number of different oils and will usually come with a scent too. Be careful that neither you nor your partner have sensitive skin that will react with blended essential oils, or any aversion at all to certain essential oils (some aren't suitable for pregnancy, for example). Do your research first.
This is Melt's Oil – You can find it on Amazon.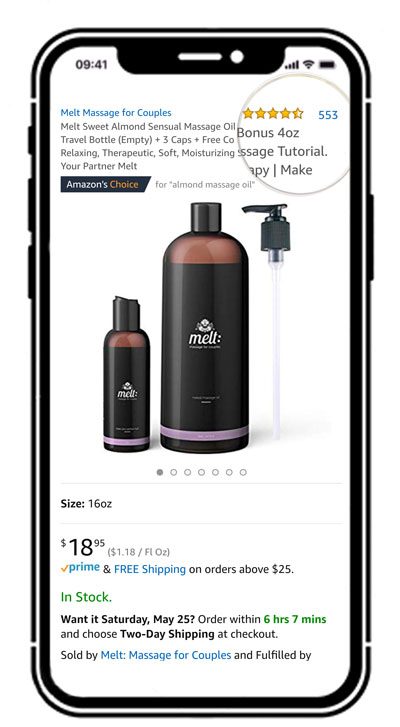 Its on Amazon, there's the 16oz Sweet Almond Oil + bonus travel bottle our very own high grade professional massage oil. We created a HUGE 16oz bottle to give you value and added a bonus 4oz (empty) bottle to give you flexibility for when you're traveling and getting a little cheeky with your back rubs. AND, it's just easier to massage with a smaller bottle than a huge 16oz mammoth thing!
Step
3
Get a lifetime membership to Melt: Massage for Couples
Finally, get a lifetime membership for yourself and your partner to our Melt: Massage for Couples video series. We'll teach you all the secrets of an amazing massage with our signature massage techniques and sequences. Make this your special occasion unforgettable as a unique way to connect, be more playful and show that you care.
When you buy Melt, you'll have it forever and you can watch it, use it and massage each other as many times as you like.
Learn in the comfort of your own living room. It makes a great stay home date night for two and it's the gift that keeps on giving. By the end, you'll be able to give your partner a delicious 30-minute back rub… and they'll know how to rub you right, too!
MAKE YOUR PARTNER MELT!


https://couplesmassagecourses.com/wp-content/uploads/Valentine-Pic-Couple-Kissing.jpg
360
1030
Couples Massage Courses
https://couplesmassagecourses.com/wp-content/uploads/melt-logo-192.png
Couples Massage Courses
2016-01-29 12:19:45
2019-06-15 05:56:47
Gifting Melt: Massage for Couples
for a Special Occasion