We Experimented With a Blindfold, and This is What We Found

There's no denying it, being blindfolded is a seriously sexy experience.
That's because when you compromise one of your five senses, all the others heighten to compensate. Your ears prick, your taste buds sharpen and your skin quickens to the touch.
For this very reason, incorporating a blindfold into your romantic massage routine is something we wholeheartedly recommend at Melt.
Your partner may be a little tentative or shy at first, but if you can reassure them that you'll take care of everything for them once they give up some control then using a blindfold can also become a gorgeous exercise in building trust for you both.
We've experimented with blindfolds since our early days of massaging each other. If you are forced to close your eyes and relax, it's amazing how much more you can get out of your massage.
Your brain will focus that much more intently on every caress, every touch, every breath across your neck… your skin will tingle deliciously under your partner's hands and – regardless of their level of massage expertise – we can guarantee it will feel amazing. It's actually a great little hack for beginner massagers.
Over the course of our little blindfold trial, we found a few things that worked and a few things that didn't. Here are our top tips for incorporating a blindfold into your next couples massage, for maximum effect:
1. Find the right blindfold
We love a silky satin sash. Thin scarves in soft fabric work too, or eye masks from your last airplane trip. If you want to go all out as a sexy gift, find something special, such as this gorgeous handcrafted leather and silk chiffon one with lace detail from Porte a Vie.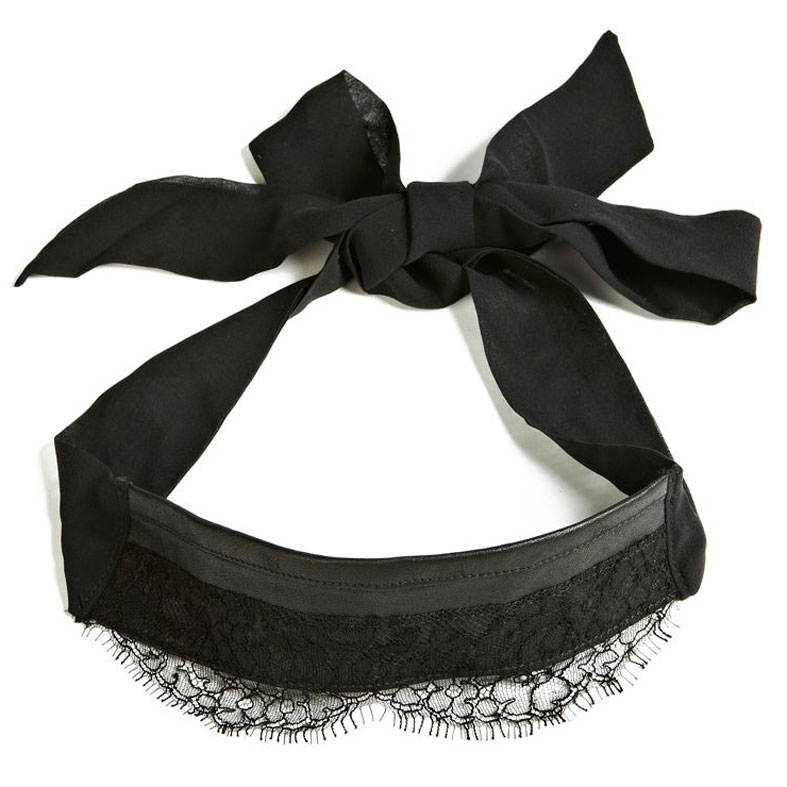 2. Use the element of surprise
One of our favourite moves is the surprise massage. Distract your partner by doing something utterly lovely for them first; for instance, try running a bubble bath for them to soak in.
While your sweetie is relaxing in their bathroom sanctuary (preferably complete with candles, soft music, wine, and a good book), run around and set up your massage space. You can use our romantic massage checklist to make sure you have everything you need on hand.
Go to collect them from the bathroom with your blindfold in hand. Let them dry off, then explain you have a little surprise for them and slip the fabric over their eyes.
3. Gain their trust and don't break it
Once you've got your partner, take them carefully to the massage room. Don't let them bump into walls, or trip over things and do not under any circumstances leave them alone with the blindfold on! Be gentle, talk them through what you're doing and stay very close to them at all times. They'll likely be giggling and nervous, your job is to make them relaxed.
By all means, start with some food and wine – feed them strawberries and chocolate, treat them to sips of wine, all while blindfolded. It's a beautiful, sensual way to start your teasing seduction.
4. Stop while you're ahead
Begin your massage with your partner blindfolded. They'll love it, and should become very relaxed right off the bat. Once you feel like they're really enjoying themselves (the clues are in the body language – if they're slumped back into you, docile and jelly-like, you're on the right track!) then you can slide the blindfold off and let them see the romantic massage space you've created. If you indeed followed our checklist, they should find themselves in a candlelit haven of pillows, towels and dim lights. And they will be all the more blown away for it.
The blindfold is a great starter gimmick to enhance your massage, but you don't need to let it go on too long, there's a lot to be said for changing things up halfway through and letting them drink in the rest of the experience with their eyes too.
https://couplesmassagecourses.com/wp-content/uploads/massage-blindfolded.jpg
360
1030
Couples Massage Courses
https://couplesmassagecourses.com/wp-content/uploads/melt-logo-192.png
Couples Massage Courses
2014-11-05 21:48:32
2015-04-05 08:50:00
We Experimented With a Blindfold, and This is What We Found