Deep Tissue Massage
[one_third]
[quote]Made for the enthusiastic couple!
The Advanced Course takes couples through deep tissue massage techniques to help alleviate stress and tension within the back, neck and shoulders.
You're going to love the combinations of massage techniques created in this course, as well as the mammoth massage routine at the end.

[/quote]
[/one_third]
[two_third_last]
Deep Tissue – In this course you'll learn some amazing deep tissue techniques that create a wonderful release.
Welcome Thumbs – Purposefully the last two courses have not included any thumb techniques as most couples fall into the trap of over-using their thumbs causing their hands to hurt. Your thumbs are your secret weapon, and you'll be taught how to properly use them in this course.
Combination Strokes – This course introduces a combination of long warm relaxations strokes with short sharp deep tissue strokes to produce the MOST AMAZING release. The short/focused strokes penetrate the deep tissues of the muscles to create a huge release, while the long relaxation strokes wash out any pain created to enhance the released feeling.
A HUGE two page massage routine – That'll keep you occupied for more than 25+ minutes and have your partner left in a pool of melted goo by the end of it. It's amazing!
[/two_third_last]
How Deep Is Deep?
Some people love deep tissue, "the deeper the better!" Others like it more relaxing, chilled out. How do you know how deep your partner wants their massage?
It's easy to work out how deep you can massage on your partner – simply ask them! Obviously when your massaging you're not going to start out deep. In the first two modules you leant how to use long relaxation strokes to begin your massage. You should always follow this routine to get the perfect results.
When practising the deep tissue techniques, start softly and progressively work in deeper. Ask your partner for feedback… "would you like it deeper, or lighter?" The more you massage your partner the easier it will become to determine what type of pressure they enjoy.
Combinations
Combinations
Combining techniques produces an unbelievable release of tension and stress that can be felt for days after the massage.
These techniques are difficult to master because they implement both deep and relaxation strokes to produce a therapeutic effect as well as long and short strokes in a rhythmical flow to nurture and calm your partner.
BUT… once you've got this technique right, wow! Your partner will love you for life!!! If you feel like you've got what it takes, try the Rhythm 'n' Flow technique.
Rhythm 'n' Flow Technique
Start with the long stroke – use an open hand on your partners back with just a little pressure coming from the heel of your palm. Follow the long arrow, one hand after the other for about 10 seconds.
Now switch to shorter deeper strokes using your thumbs, follow the arrows: Right thumb = short green arrow / Left thumb = short blue arrow. After you've completed the 4 short/deep movements, go back to the bottom and repeat the 4 short strokes again then move back to the long strokes relaxing open hand techniques.
Repeat this combination of strokes a few times.
[one_half_last]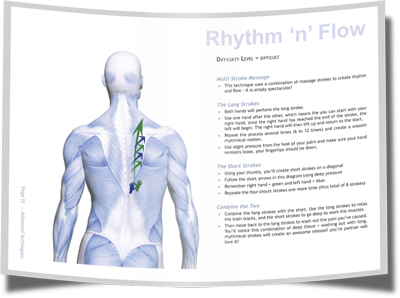 [/one_half_last]
What you Need to Start
[one_half]
Massage Oil
Before you start you'll need to pick up some Cold Pressed Sweet Almond Oil (if you're allergic to nuts, Grapeseed Oil is a good alternative). You can buy these oils cheaply from your local health food store, or Amazon sells Sweet Almond Oil – click here
[/one_half]
[one_half_last]
Allergies
Please consult your doctor if you are unsure whether you'll have an allergic reaction to any of these oils. There are many types of oils that you can use – Sweet Almond and Grapeseed Oil are the most commonly used amongst massage practitioners.[/one_half_last]
As Seen on TV
[one_third]
[quote] This video is a snap shot of the Make Your Partner Melt – Couples Massage Seminar presented by Denis Merkas.
Denis runs the Couples Massage Seminars in Melbourne, Australia on a monthly basis. The seminar runs for 3 hours and cost $350 per couple, $650+ if couples choose to stay the night in the Hotel. [/quote]
[/one_third]
[two_third_last]

[/two_third_last]
$39.95
The advanced course provides you with a massage routine that is twice as BIG as the intermediate course. The course introduces you to thumb techniques, everyone's most favourite massage tool. It gives you an insight into massage combinations of deep and light pressure used with long and short massage strokes to create an unbelievable release that will turn your partner into a big ball of goo! The information in this course is invaluable and will make the massage you do on your partner so much better!


Click the download button, pay the $39.95 and in 5 minutes your be reading Denis' Advanced Massage Techniques. For couples who are serious about their massages!
Hey, Want to Save Money?
Buy all 3 massage courses and save! Only $47 for the lot!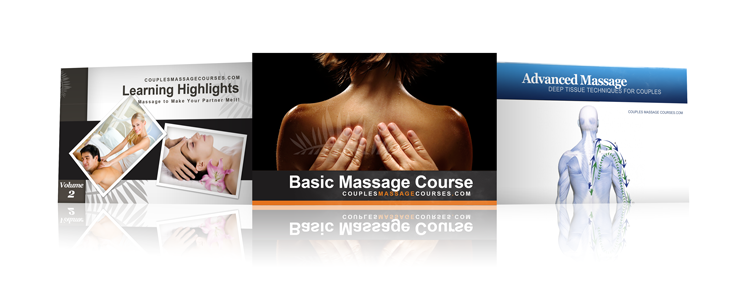 Get ALL 3 Courses for only $47.00