Who says the romance has to die after the honeymoon phase? (Well, all the experts do but what do they know anyhow?)
If you're serious about your relationship, chances are you already know how important date night is for long-term couples.
What you might not know is that there are certain rules to successful date nights that don't involve eating the same old Thai green curry followed by a movie week after week.
What you're aiming for with any good date night is novelty. Trying new things is good for you as a couple!
With just a little bit of effort, you can seriously up the ante on the romance factor in your date nights. Try organizing just one of these amazing romantic date ideas for date night this week and watch your sweetie melt.
We've compiled this mega-list of romantic date ideas so you'll never run out of inspiration. This is an entire year's worth of date ideas, and every single one of them, done right, is devastatingly swoon-worthy.
1. Cook a 3-Course Meal
Go all out one night at home and plan a three-course menu for dinner full of your partner's favourite foods. Print up a menu card for your sweetie, set the table with candles and flowers and play soft music in the background. Get dressed up. Consider a waltz around the living room after dessert.
2. Have a Picnic
Pack a picnic basket with yummy deli treats. Think gourmet dips, artisan breads, beautiful cheeses and a bottle of wine. Find a secluded spot in a park, spread out a blanket and laze around together for the afternoon. Take a book or a magazine and some tunes. Chat. Roll around on the grass.
3. Row, Row, Row Your Boat
Rent an old wooden rowboat from a nearby boathouse. Float around together on the waterway, feeding the ducks. Pack a thermos of coffee or tea and some scones. Bonus points for rummaging up a parasol.
4. The Drive-in Movies
A classic romantic date idea for two. Find a drive in movie theatre and head to watch a feature movie together in your car. Wash your windscreen so you can see clearly. Take your date for burgers and milkshakes first… Two straws, one shake. Natch.
5. Massage Your Date

It's no secret we think this is an amazing romantic date night. Treat your sweetie to a decadent, pampering massage at home. Light candles, pick up some quality massage oil and rub them up in the most delicious way.
6. Take a Bath Together
Dress up your bathroom ready for a romantic night (be sure to remove all traces of kids' toys). Put out fresh towels, draw a steamy bubble bath and sink into the warm water together with a bottle of sparkling wine and gentle romantic music. Candles are a must. Wash each other's backs; perhaps treat each other to a foot rub. Towel dry and anoint each other with a decadent moisturiser when you're done.
7. The Star Gazing Date
Gazing at the stars together is one of those truly romantic date ideas ideal for any dreamy couple. Take a drive away from city lights and equip yourself with a torch and a constellation map of the night sky, available from Sky Maps for free. Search the heavens for constellations, all from a blanket on the bonnet of your car.
8. Farmer's Market
Spend a leisurely morning hand-in-hand, soaking up sunshine and produce at your local farmer's market. Order organic coffees, tuck into a hot bacon and egg roll and stock up on some produce to cook an amazing weekend lunch for two, or perhaps a picnic.
9. Striptease
Turn down the lights and get your sexy on for your lucky sweetheart. Think lingerie, stockings, heels and a few well-chosen layers to peel off one at a time. For the men, break out your best pair of boxer briefs and leave the black socks off! Put on a seductive song and treat your partner to a private peep show.
10. Skinny Dipping
A deserted pool or lake, moonlight rippling on the water, a balmy summer's night… dare to dip naked together, there's nothing quite like the kiss of cool water on exposed flesh.
11. Cook Dinner Together
Get messy together in the kitchen as you tackle a recipe you've never tried before. Open a bottle of wine, put on your favourite tunes and dance around while you whip up a gourmet feast. Feed each other from the pot. Eat together by candlelight before getting back in there to do the washing up.
12. Outdoor Makeout Session
Make like teenagers and head outdoors for a hot and heavy pashing (that's Aussie for 'making out') session under the stars. Find a secluded park, a dark beach or maybe just a blanket in your own backyard.
13. Midnight Picnic
Pack a picnic to enjoy together at midnight in the middle of summer – one of our favorite romantic date ideas. This could involve a cheese plate and dessert wine, chocolate cake and a thermos of hot tea or go all out with your favourite midnight snack foods like mac and cheese.
14. Nature Walk
Stroll hand in hand through the beauty of nature. Such a wholesome, ideal way spend an afternoon – it doesn't matter if it's a warm sunny day, or the middle of winter. Simply dress appropriately, pack some snacks and breathe in your surroundings on a scenic walking trail. Don't forget to stop and marvel at all the miraculous wonders along the way.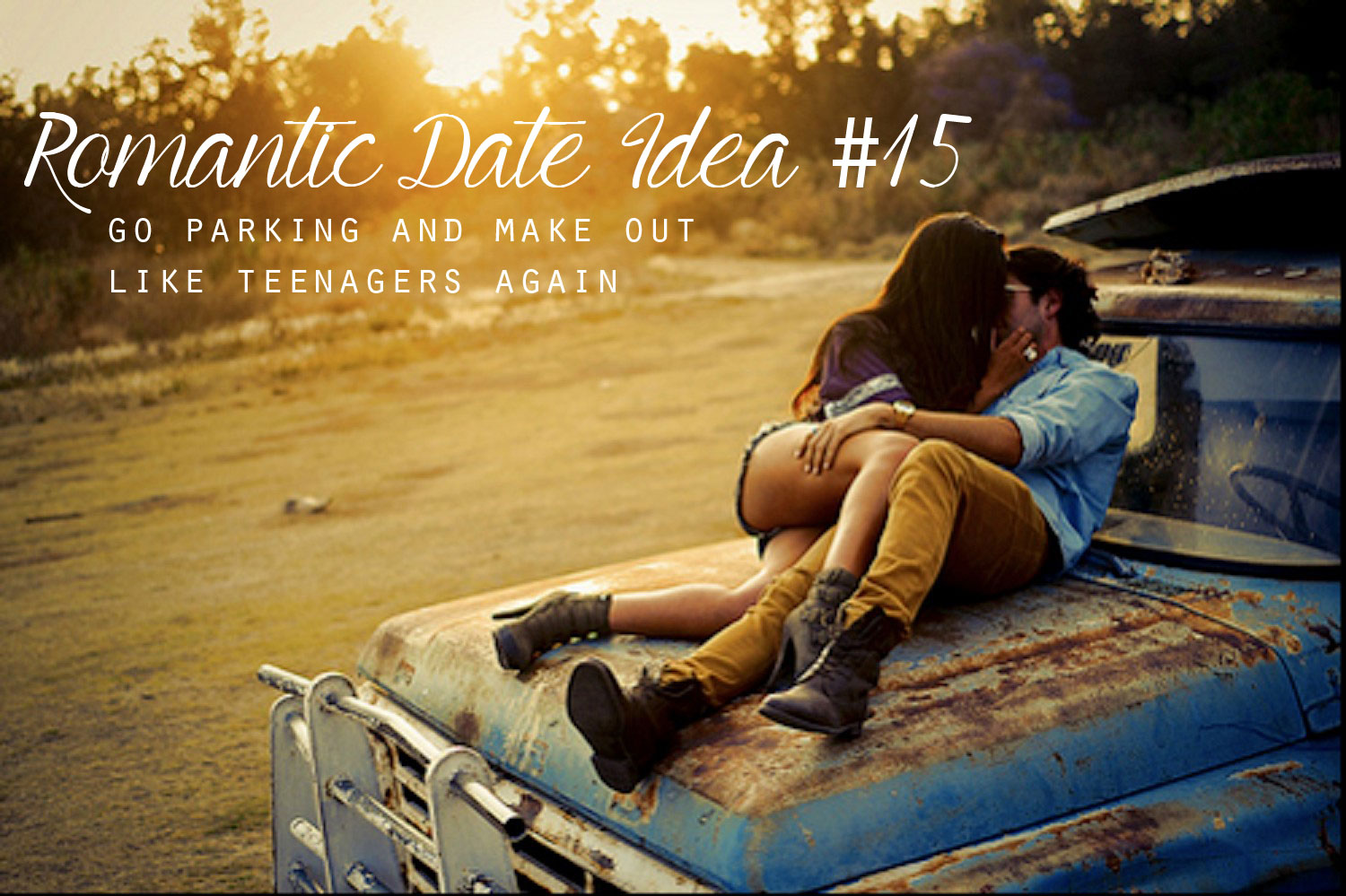 15. Go Parking
Take a night drive to the local Lover's Lane or lookout area. Jump into the backseat of the car together and fool around a little.
16. Reminisce with Home Movies
Record some memories. Take a video camera to your favourite meaningful places – where you first met, had your first date, the doorstep of the first tiny apartment you moved into together and film each other, documentary style, as you reminisce about those moments in time that were so very special. Store them to watch later.
17. Salsa Class
Sign up for a salsa class and learn the art of this sexy Latin street dancing. Get close, get sweaty, gyrate. Be sure to practice your new moves back home in the privacy of your living room afterwards where you can really get steamy.
18. Tango Class
More intense than salsa, a tango class is nothing but pure romance on legs. Think full body contact and deep eye gazes.
19. Watch the Sunrise
Wake your date up before dawn and sneak out of the house to enjoy the miracle of a sunrise huddled together in a blanket, followed by a hot breakfast.
20. Memory Lane
All those photos in your albums and you probably haven't looked at them in years. Sit down for a night on memory lane, featuring your life together.
21. Fireworks
When is the next fireworks night near you? Find out and go with a blanket and a night picnic for a nice change from the TV. Lie flat on your backs to watch as the waterfalls of colour rain over you.
22. Live Jazz Music
Enjoy some great live music at a local jazz club. There's something very romantic about a table for two, dimmed lights and the sound of a deep double bass and saxophone crooning in the background. Classic romance.
23. Dessert Only Date
This is one of those romantic date ideas that you can't get enough of. Eat dinner at home as per usual, then head to a fancy, cozy restaurant and order dessert only. The decadence of sugar, chocolate and spoon-feeding each other will whip you into a romance frenzy. And it's friendly on the budget too.
24. Holiday House
Seek out friends or family members who have a holiday house or live in a different location and ask for a loaner house or a house swap for the weekend. Perhaps your city pad can provide a great getaway for your beachside friends and vice versa? Spend the weekend together in a completely new space. Eat good food, have intense conversations and laze around in bed.
25. Private Outdoor Cinema
Set up your own outdoor cinema in the backyard with a laptop, a picnic blanket, some oversized cushions and a warm summer night. Complete it with all the usual movie snacks – popcorn, red vines, chocolate… perhaps even add wine (because why not?)
26. Backyard Tent Fantasy
Rig up an old sheet or a mosquito net in the backyard and create a mini harem tent for two. Add oversized pillows, soft blankets, candles and fairy lights, platters of fruit and cheese and romantic music. Spend the night under the stars. Sleep there if you feel so inclined.
27. Foot Rub
Treat your partner to a decadent foot massage at home. Start by letting them soak their feet in warm water while you bring them a hot tea or cheeky glass of wine. Once those tootsies are clean and soft, use lotion or oil to send your partner to heaven with a detailed foot massage and watch them melt.
28. Day Spa at Home
Set aside an afternoon for some day spa style pampering at home. Put whale songs on, don fluffy robes and drink herbal tea while you play therapist to each other. Think body scrubs, hair treatments, mud masks and mini massages. Complete the experience with a fruit plate or a paleo lunch.
29. Breakfast in Bed
Slip out from between the sheets early one weekend and go prepare a lovely breakfast to serve to your beau/beauette in bed. Do something a little more special than the every day breakfast. Pancakes, scrambled eggs, French toast, fresh strawberries… all excellent options. Include coffee (or tea), OJ and a flower on the tray. Extra brownie points for bringing their favorite morning paper or periodical.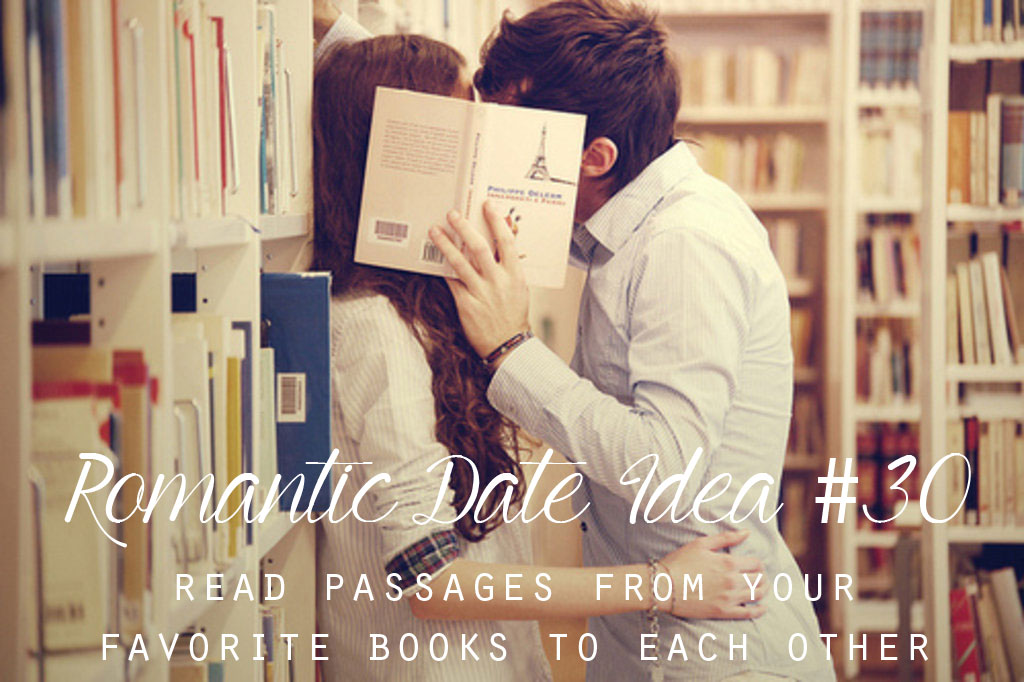 30. Read to Each Other
Select your favorite literature or poetry book from your shelf and spend a night curled up on the couch reading passages you love to each other. Some of the greatest love stories and most stirring passages will sound amazing from your partner's lips.
31. A Night in Italy
Fly your sweetie's imagination right to Naples with a special Italian-themed night for two, a bellissima alternative to a normal dinner at home. Start with the menu; think making homemade pizzas together while a romantic accordion track plays in the background, or sampling pasta sauce right from the pot to the sounds of Pavarotti. After your candlelit Italian feast, sit down to a foreign movie. Some Italian-themed classics include: Roman Holiday. Life is Beautiful or the more modern Under the Tuscan Sun.
32. A Night in India
Described as the most romantic country in Asia, exotic India is certainly an apt choice for a themed dinner at home. Make velvety butter chicken from scratch (or order in from your local) paired with crisp naan bread and mango lassi (spike this with rum if your heart desires). Spread a sari out on your dining table, string some pink lamps up and feast to the meditative strains of a sitar. Screen Bollywood classic post-dinner, or a movie set in India – Life of Pi comes to mind.
33. Amusement Park
Find a vintage amusement park and spend a night winning oversized toys at the ring toss, sharing sticky cotton candy and snuggling on the ferris wheel for a throwback to old school romance. Make sure to squeal and hold each other tight on the rollercoasters.
34. Walk the Beach
Next time you find yourself by the seaside, take the time to slip off your shoes and walk the shoreline hand in hand. Collect shells, etch your initials into the sand and dream of far off horizons. Sunset optional.
35. A Night at the Opera
Organize tickets to the opera for a night out with a difference. Go all out and get really dressed up – the opera is one of the last places you can wear long gloves and an evening gown, after all – and sit to enjoy one of the classics. Romantic choices include Madame Butterfly, The Marriage of Figaro and Carmen.

36. Write a Song Together
If you happen to have a guitar or a piano around the house, try writing a love song together one night. Tinker with a melody, come up with a catchy chorus and some verses then perform it together as a duet. Who cares if you can't sing?
37. Outdoor Cinema
There's nothing quite like watching a movie under the stars from a picnic blanket. Many local parks now have outdoor cinemas throughout the warmer months. Take your own snacks and oversized pillows and snuggle together through some romantic cinema.
38. Dance Under the Moonlight
Take your favorite playlist of songs to dance to, grab your sweetie and head outside to dance barefoot in the moonlight together. Organise some wine and and a dessert picnic to really up the romance ante.
39. Play in the Rain
Next time it's raining, instead of huddling indoors to stay dry – get out there in it! Don your rain-boots and coat (or don't) and go splash in puddles together. Kissing in the rain has been romantic ever since… well, forever. Dry each other off and make hot cocoa afterwards.
40. Treasure Hunt
Send your sweetie on a romantic treasure hunt – pick up some trinkets (they don't have to be expensive… think of your partner's favorite chocolate bar, the latest copy of a magazine they love, write cute love notes, a gift voucher for a store) and hide them all over your house or garden, then deliver your partner some clues to help them find everything.
Bonus points for theming it. For example, have them find everything they would need for a relaxing soak in a hot bath – salts, chilled music, a good book, a rubber duck, loose rose petals – and then leave them to it in the bathroom afterwards.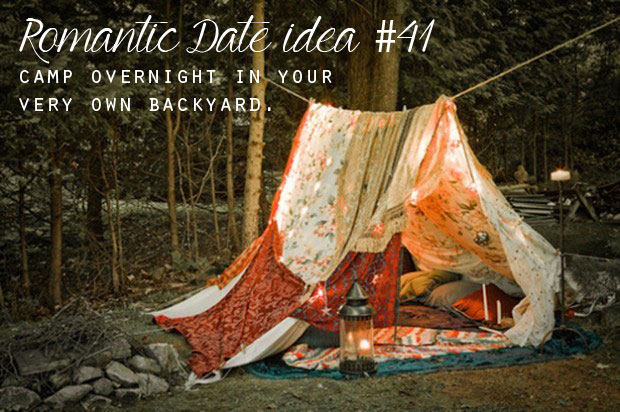 41. Camp in the Backyard
Sleep overnight in your backyard together. Beg, borrow or dig out your camping equipment, or create a magical makeshift tent with some old sheets and string. Light a drum fire, roast marshmallows, tell ghost stories and don't go back inside if you can help it! Cook breakfast on the BBQ the next morning.
42. Loungeroom Floor Picnic
The dining table is overrated. Set up everything you need for a picnic in your very own living room one night for dinner with a twist. Pack it all into a basket, light some candles and kick off your shoes. Perfect for the colder months.
43. Relive Your First Date
Retrace your steps as a couple and recreate your very first date. Surprise your partner by whisking them back in time. What year was it? What music were you listening to (playlist) then? Did you pick them up or meet them there? Do you remember what you ordered? What you were wearing? What you talked about?
44. Pretend You're Meeting for the First Time
Have your partner get dressed up and go to a bar alone. You're going to meet them there, with a twist – pretend you're meeting for the very first time. Be yourselves; or come up with entirely new personalities. Choose your own adventure. Maybe even go home with them that night…!
45. Get Super Dressed Up for Dinner
Whether it's dinner at home or you make reservations for a fancy restaurant, break out of your usual routine by getting really dressed up for the occasion. If you possibly can, get ready at separate locations to help enhance the anticipation.
46. Dinner and Dancing
Do you love to dance? Indulge in one of the classic romantic date ideas with a dinner-and-dancing night. Find a good venue – jazz clubs are a great choice, or your local dance school may hold weekend social nights where everyone is invited to take the floor. Get all Fred and Ginger!
47. Check into a Hotel
Save up your pennies and spend a night at a hotel together for a change of scenery. You don't have to stray too far from home. Order room service, don fluffy robes, have a drink in the hotel bar. It's one fantasy night away from your everyday life.
48. Play Pool in a Seedy Pub
It doesn't look like the makings of a passionate night at first glance, but actually this low-key date idea has so many opportunities for romance. Find a seedy pub and commandeer the pool table. Order some drinks and challenge each other to a few rounds of pool. Place saucy bets on the outcome. Not good at pool? No worries, have your sweetie show you exactly how to handle the cue. Put your favorite songs on the jukebox. Flirt outrageously.
49. Have Cocktails in a Gorgeous Bar
Find the fanciest bar in town and head there for some exotic cocktails. Take to a lounge in a dark corner or sit right at the bar for some interaction with the bartender.
50. Stage a Photoshoot
Make some new memories together – take a camera with a self-timer and a tripod, get yourselves dressed nice and have a little photoshoot together. Pick a garden, beach or urban location you like. Have other people snap you together too. Do a few selfies. Frame your favorites!
51. Sketch Each Other
Spend a night at home with a blank sketchpad and graphite pencils, sketching each other in the name of art. Even if you aren't necessarily great at drawing, look up some tutorials online and give it a go! It can be abstract. It can be bad. If you're feeling espeically frisky, get all Titanic and sketch each other naked.
52. Go Fruit Picking
A dreamy afternoon wandering fruit orchards in the dappled sunlight? Yes, please! Whatever the season, there will be fruit ripe for the picking somewhere. Many orchards will let you in to pick your own apples, strawberries, oranges. Once you've selected the ripest, juiciest fruits (and quite possibly fed a few to each other along the way) head home and whip them up into some sort of pie or dessert concoction.
https://couplesmassagecourses.com/wp-content/uploads/52-romantic-date-ideas.jpg
360
1030
Couples Massage Courses
https://couplesmassagecourses.com/wp-content/uploads/melt-logo-192.png
Couples Massage Courses
2014-09-30 09:27:00
2015-10-21 23:14:27
52 Ridiculously Romantic Date Ideas for Any Couple